2020: The 33rd European Film Awards

Presented as a series of virtual events, the European Film Awards (EFAs) took place every evening from 8 to 12 December with a livestream of "The EFAs at Eight", celebrating the nominees and winners of the various categories of the 2020 European Film Awards.
The entire programme was streamed live at www.europeanfilmawards.eu and through an international network of streaming and broadcasting partners, with the nominees & winners joining via live video conference.
The EFAs at Eight

TUESDAY, 8 DEC 20.00 CET


The EFAs at Eight: From Survival to Revival: Building the Post-Covid Future
Re-structuring, re-engineering and re-aligning the European film industry
with British director Mark Cousins, recipient of the new EFA Award for Innovative Storytelling for his ground-breaking documentary WOMEN MAKE FILM: A NEW ROAD MOVIE THROUGH CINEMA; Polish director and former EFA Chairwoman Agnieszka Holland; Kirsten Niehuus, CEO Film Funding Medienboard Berlin-Brandenburg; and Danish director Thomas Vinterberg, nominated with his film ANOTHER ROUND.

moderated by UK-based Wendy Mitchell, editor of EFA Close-Up, contributing editor at Screen International and a consultant for the San Sebastian, Rotterdam and Zurich film festivals.
WEDNESDAY, 9 DEC 20.00 CET


The EFAs at Eight: The EFA Excellence Awards
Presenting the winners in the categories European Cinematography, Editing, Production Design, Costume Design, Make-up & Hair, Original Score, Sound, and Visual Effects
moderated by Wim Wenders & Marion Döring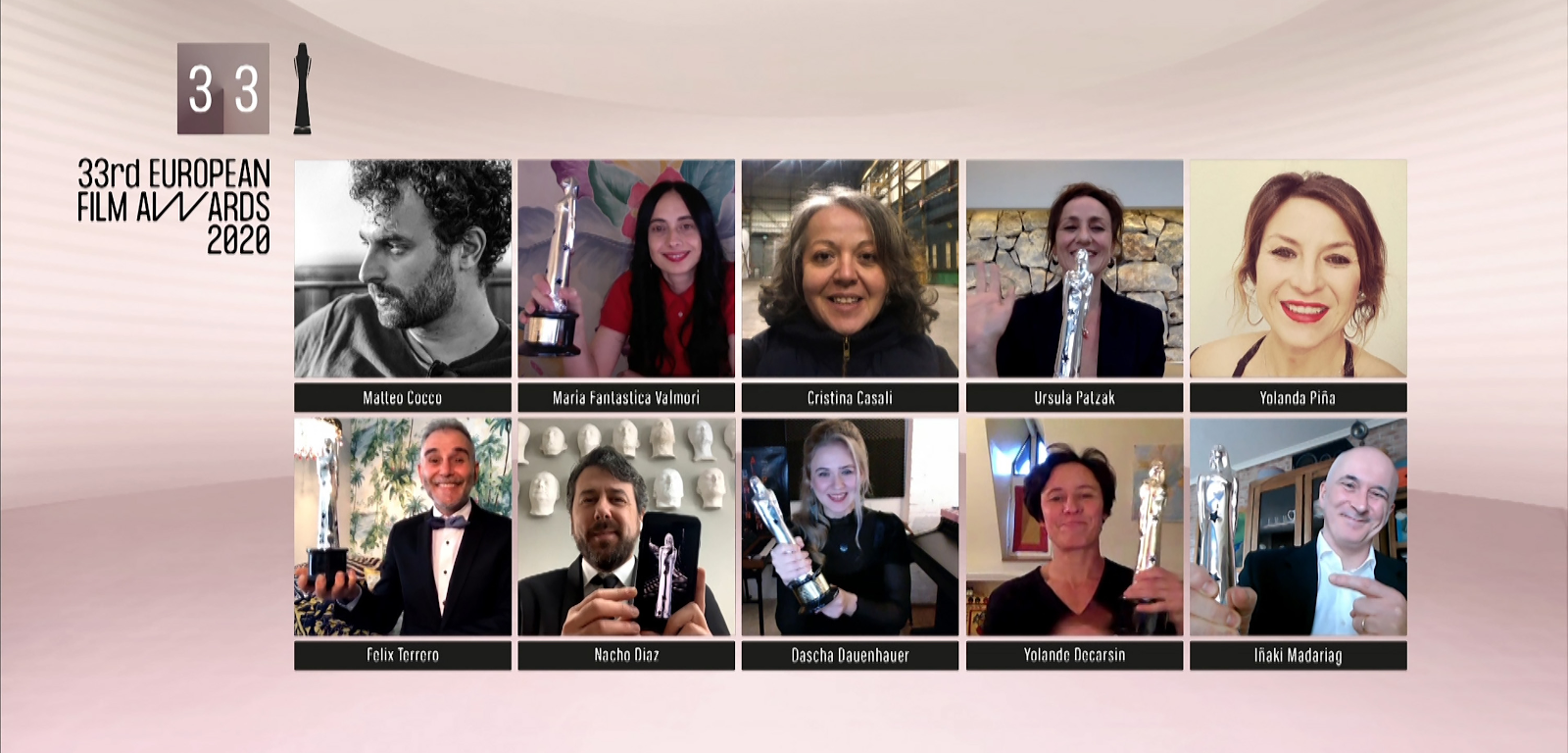 THURSDAY, 10 DEC, 20.00 CET


The EFAs at Eight: EURIMAGES, Short Film & EUFA
Presenting the winners in the categories EURIMAGES Co-Production Award, European Short Film and European University Film Award (EUFA)
moderated by Mike Goodridge
FRIDAY, 11 DEC, 20.00 CET


The EFAs at Eight: Comedy & Animation
Presenting the winners in the categories European Comedy & European Animated Feature Film
moderated by Mike Goodridge
The Grand Finale
SATURDAY, 12 DEC, 20.00 CET


The EFAs 2020 Grand Finale from the Futurium in Berlin:
Presenting the EFA Award for Innovative Storytelling, as well as the Awards for European Documentary, European Discovery, European Actress, European Actor, European Screenwriter, European Director and European Film.

Announcing – for the first time – the nominations for the LUX European Audience Film Award by the European Parliament and the European Film Academy and in partnership with the European Commission and Europa Cinemas
Steven Gätjen & the nominees
moderated by German TV host and film buff Steven Gätjen
hosted by Marion Döring, Mike Downey, Agnieszka Holland & Wim Wenders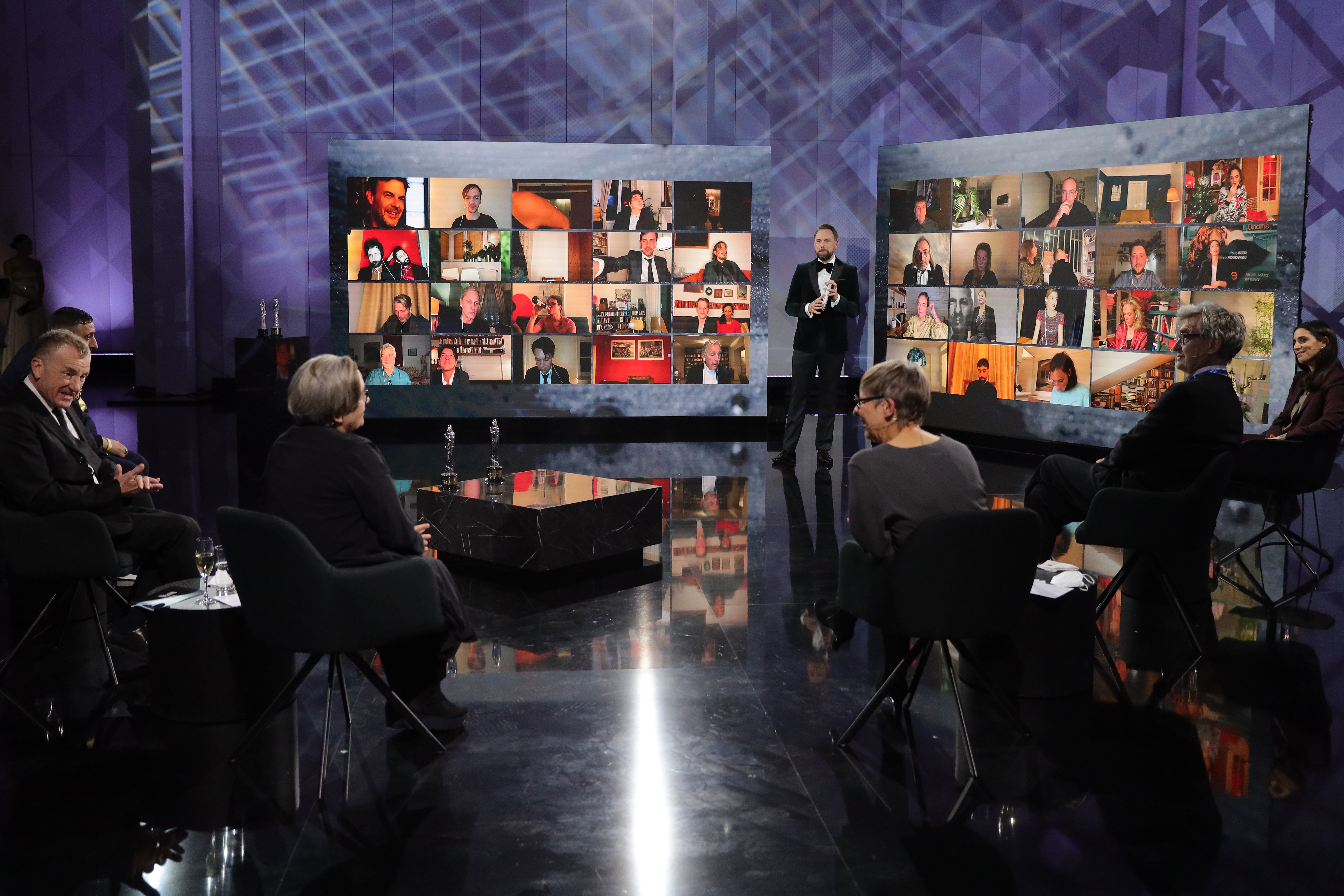 Steven Gätjen, hosts & presenters 
PRESENTERS

The awards were presented by a great group of Berlin-based European actresses and actors, among them Emily Atef, Vicky Krieps, Annabelle Mandeng, Kida Khodr Ramadan, Tyron Ricketts, Sabin Tambrea and Maryam Zaree. 

With the special participation of Icelandic actress Halldóra Geirharðsdóttir.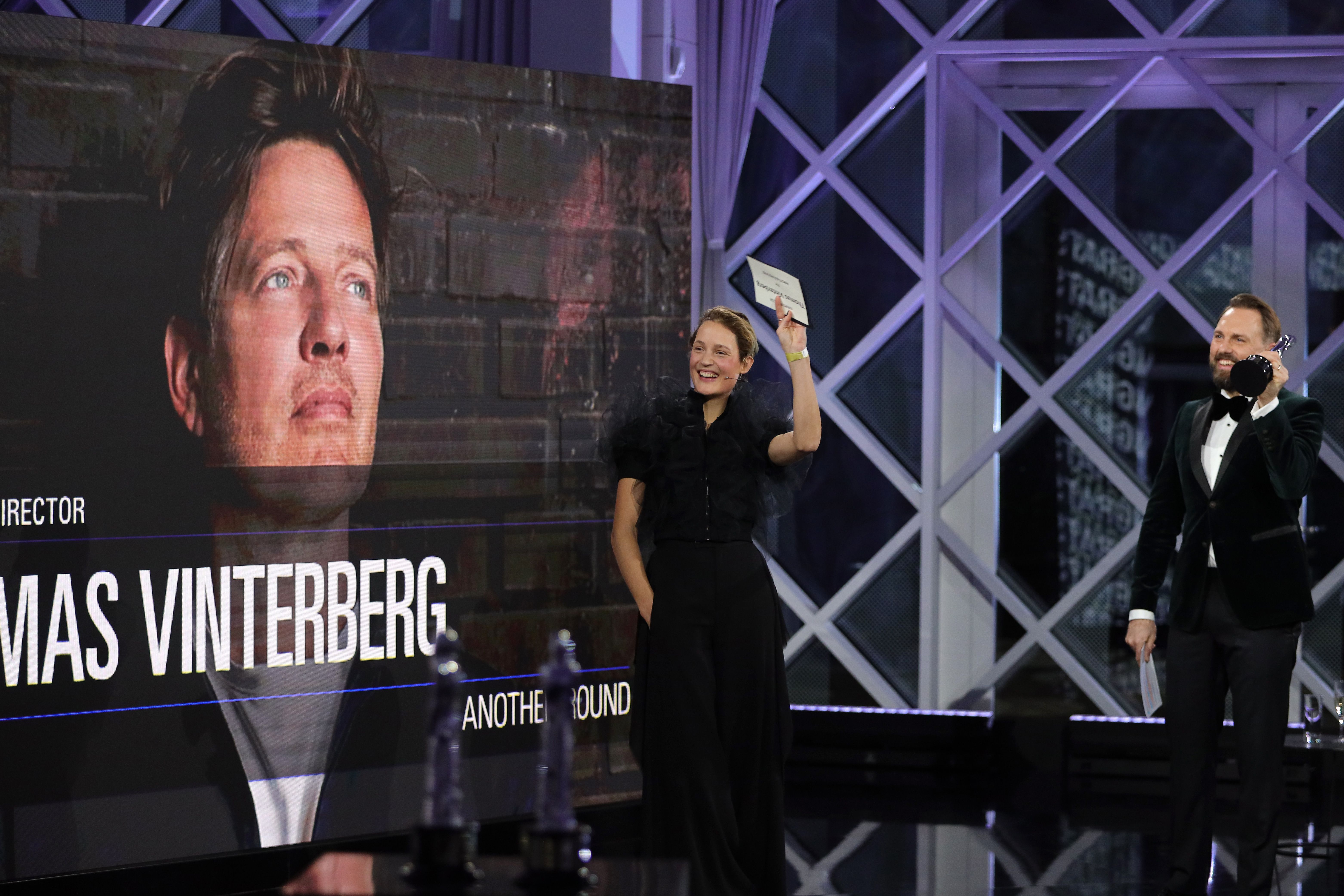 Presenter Vicky Krieps & Steven Gätjen 
PRODUCTION

For many years now, the annual award ceremony has been produced by the managing director of EFA Productions, Jürgen Biesinger (executive producer), and EFA Director Marion Döring (producer).
MUSIC

Apart from decade-long, relentless creative activity with one of Iceland's most acclaimed acts Múm, Gunnar Örn Tynes has worked as musician and producer on high profile movie and TV productions such as Joker, Chernobyl, Mary Magdalene, The Hate U Give and the Icelandic TV series Trapped.

Viktor Orri Árnason is one of Iceland's most profiled instrumentalists and composers, having conducted and created arrangements for Jóhann Jóhannsson, Hildur Guðnadóttir, Dustin O'Halloran and Nils Frahm amongst many others. He is also the violin and viola voice behind renowned string library manufacturer Spitfire's Evolutions editions.

In 2020, both teamed up with composer Kriton Klingler-Ioannides to commit their talent to creating the music for the online EFA 2020 Award Ceremony.

As a special music act from Harpa Concert Hall, Reykjavik: Gyða Valtýsdóttir and Kjartan Sveinsson performed their song "Liquidity", together with Skúli Sverrisson, Daníel Friðrik Böðvarsson, Úlfur Hansson and Magnús Trygvason Elíassen.
DESIGN

The official #efa2020 design was created by German art directors Bode Brodmüller and Christin Franke. The two overlapping spheres stand for two connecting elements, past and future; but also communication in these abstract times of Covid-19 and all those contacts that we miss.

The European Film Awards 2020 were presented by the European Film Academy and EFA Productions. Public supporters: Creative Europe MEDIA Sub-Programme of the EU, Federal Government Commissioner for Culture and the Media, FFA German Federal Film Board, German State Lottery Berlin, and Medienboard Berlin-Brandenburg. Sponsors: GLS, Ottolina, ŠKODA AUTO Deutschland. Exclusive hair styling partner: AVEDA. Media partners: Cineuropa, Euronews & radioeins.